Singapore is one of the world's largest economies despite the size of the country. Over the years the country has been able to act as a global giant in almost every industry due to their strategic decisions and the corporation from the citizens. Collectively they've built the country which you can see now. 
Singapore has ranked number 2 in the worlds easiest place to do in the business index. This is a great statement to show how much of a developed country Singapore is. Due to these factors and many more, Singapore is becoming a hub for Small and Medium-sized Enterprises or commonly known as SMEs. Singapore government is heavily promoting new SMEs which will bring more revenue to the country's ever grown GDP. 
To promote SMEs Singapore government has taken few measures for the entrepreneurs to develop and start SMEs. May it be in the form of Grants of Schemes, all these are in place to help the entrepreneurs to make the full use of Singapore's huge market opportunity. 
Now let's look at few measures Singapore government has taken to promote Small and Medium-sized Enterprises.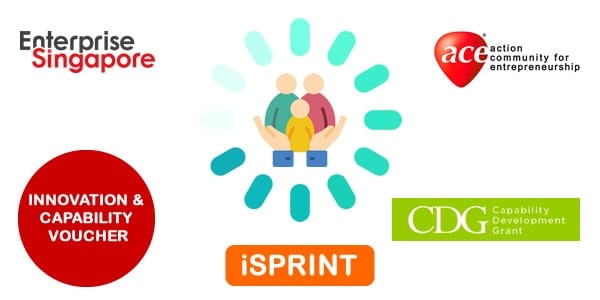 1. Enterprise Singapore Program
Enterprise Singapore is the government body to promote and encourage citizens for enterprise development. The program works with individuals and companies to develop capabilities and to innovate, so they can contribute towards the growth of the Singapore's economy. Enterprise Singapore has provided a few exciting grants that will help any person to kick start their dream in Singapore.
1.1) For the new startups, they can request for Startup SG Founder. Fresh entrepreneurs can easily obtain much-needed capital and Enterprise Singapore will match USD 3 for every USD 1 raised by the first-time entrepreneurs. It will provide the much-needed mentorship to guide you throughout your time with Enterprise Singapore and will ensure that you will reach your full capabilities with your hard-earned money.
1.2) If you want an easy flow of a cashflow then you can go for the Startup SG Tech. This is ideal for entrepreneurs who are hungry for success. The Grants will be provided according to the milestones set by you and Enterprise Singapore. 
So, the quicker you achieve your milestone the quicker you will receive your cash flow. The grant will provide an equity share for Enterprise Singapore since they want more stability in financial discipline.
1.3) For the local companies who are looking to reach new heights, they can apply for the Enterprise Development Grant. This is a sure way for the local companies to reach overseas markets. Enterprise Development Grant will assist in 3 different aspects.
1.3.1) Core Capabilities
All the projects that fall under core capabilities will assist business to grow and transform by having a good foundation on their business practices.
1.3.2) Productivity and innovation
All projects under productivity and innovation who see the growth of new product lines and the aspects that will lead the company to new heights. Since this is mainly to look after the efficiency of the company, this is likely to be involved with a review and a redesign in the workflow and process.
1.3.3) Market Access
Any company that is willing to go overseas and brings valuable foreign currency to the Singaporean market are welcomed by Enterprise Development Grant.
1.4) If you are not looking for high-end solutions but just to simply automate a process and improve your much-needed productivity, then Productivity Solutions Grant is the ideal solution for your business. The grant helps companies that are keen to adopt IT solutions and enhance their productivity.
1.5) Market Readiness Assistance (MRA) Grant provides the market readiness to take your company overseas. All eligible SME will receive the support of 70% of the eligible cost.
1.6) Local Enterprise and Association Development (LEAD) Program will be the ideal program for organizations willing to upgrade and develop their workflow so they are ready to compete with the highly competitive market.  LEAD will easily support TAC led build improvement District (BID) and the projects under Urban Redevelopment authority. LEAD support is available for areas of development such as;
Infrastructure and Technology.
Industry Expertise.
Business Collaboration.
Research and Intelligence.
Internal Competence.
It is important to note that LEAD will support up to 70% of the eligible cost for the entrepreneurs.
Visit https://www.enterprisesg.gov.sg/ for more information.
2. Capability Development Grant (CDG)
Capability Development Grant is one of the most famous grants systems for SMEs in Singapore. It is for business to build capabilities in areas such as brand and marketing strategy development, business excellence, business strategy development, enhancing quality and standard, financial management, Human capital development, intellectual property and franchising, productivity improvement, service excellence, and technology innovation. Provided by the Spring Agency, the grant offers 70% or a maximum of 30,000 Singapore Dollars for those who are eligible. 
Visit https://cdggrant.com/ for more information.
3. Enhanced iSPRINT
The main objective of Enhanced iSPRINT is to encourage SMEs to use technology and improve their productivity. Below are the options available.
a. Promote deployment of solutions by SMEs
Packaged solutions:
Intermediate solution – Ready to deploy solutions
Sector solution – Proven sector-specific solutions
Customized solutions: Tailor-made solutions
b. Boost supply of sector solutions from vendors

Piloting new sector solutions: Lead a group of SMEs to pioneer the new solutions
Scaling up proven sector solutions.
Enhanced iSPRINT is provided by IDA and for those who are eligible can receive up to 80% of their financial requirements.
Visit https://www.imda.gov.sg/infocomm-and-media-news/buzz-central/2012/9/isprint-enhanced for more information.
4. ACE (Action Community for Entrepreneurship) Startups Grant
For the fresh startups who are looking for financing ACE Startups, Grant will be the best solution for you. Provided by Spring Agency, they will match 7 Singapore Dollars for every 3 Singapore dollars raised by the entrepreneur.
Visit https://ace.org.sg/ for more information.
5. Innovation & Capability Voucher (ICV)
If you are looking to enhance your business productivity through innovation, HR and financial management then, Spring will provide you 5000 Singapore Dollars for you to kick-start your enhancements.
Visit https://icv.enterprisesg.gov.sg/ICV/Home/SME for more information.
No matter where you live, undoubtedly Singapore has become the number one destination to kick-start your business. Due to the grants and schemes provided by the government and other organizations, it has made much easier for you to establish your company in the highly competitive Singapore market.