COVID-19 was a time which forced many users to start using video conferencing platforms more. This is to say video conferencing was a thing long present before the pandemic. Platforms such as Skype and Google's very own 'Duo' was used by people on a personal or professional level to call people. However, since 2019, many have had no choice but to adapt to different platforms that surged in use or were purely introduced during this period. 
Whether it was to join a lecture for school or university or contribute to a workplace meeting, many people had to familiarise themselves with such platforms to ensure they were heard or seen or to guarantee unintended voices and backgrounds were not visible and muted out. In the post-COVID world, video conferencing platforms are comparatively less used, but their relevance still plays an important role. The way the educational and professional field has transitioned since then has led to hybrid environments whereby video conferencing software such as Microsoft Teams, Google Meets and Zoom are still being used. Hence, people that use these in their professional lives are constantly looking for better ways to make the online experience more interactive and engaging. This article will describe some exclusive features people can use to interact more on video conferencing platforms.
Seven Interactive Tools in Video Conferencing
There is no doubt that video conferencing platforms have made lives much easier. It offers many the flexibility to conduct meetings online without having to travel. According to Garner, there will only be around 25 per cent of in-person work meetings by 2024. Certain studies have also noted that this will effectively mean that companies will invest in video conferencing software more in the future as there is a need to develop more reliable video conferencing platforms. Here are a few interactive tools that nevertheless are currently present or will continue to stay present in video conferencing software:
The 'video aspect' is integral to a video conferencing platform. One of the critical things that makes video software interactive is the ability to see everyone wherever they are. With just a click of a button, people can easily show themselves while seeing their peers on the same screen. Hence, similar to being able to pick up on non-verbal cues in a physical setting, corporates can hold meetings easily. Those constantly using video calls should invest in a good webcam, although most laptops have a decent in-built camera. It also makes it easy for a person to keep track of who is speaking as the box is highlighted. Alternatively, some features allow the main person talking to be spotlighted, giving the necessary attention to the person conducting the meeting.
Screen Annotation via the Whiteboard
In any group meeting, sharing slides or documents with everyone is common. Suppose it concerns a document or report that will be shared with someone outside the company or is a presentation being pitched to a client. In that case, in preparation, the company would have a group call whereby everyone is expected to give feedback and provide comments to ensure the required documents are perfected. Instead of simply commenting on it, whereby the person in charge of updating the document may lose track of the changes, everyone can collaborate by highlighting or commenting within the document. This is done through the whiteboard feature common almost in any platform. Hence, while a person shares their screen, others can use different colours to highlight their points when explaining what needs to be changed. This also guarantees that everyone is aware of the overall edits that will be made to the document.
Consistency in Meeting Notes
In a traditional setting, either person will take notes throughout the meeting. Alternatively, each person will take note of essential points applicable to them. One common problem during this process is inconsistency when comparing one another's meeting notes. On the one hand, a valuable tool in video conferencing platforms is sharing meeting notes. Using the notes feature in the respective software, the person responsible for writing everything down can simply share it across the team. On the other hand, on specific platforms, you can switch on transcripts. This means it no longer matters whether a person takes notes personally as it is automatically transcribed. This transcript is usually made available the moment the call ends. While some names or terminology could be written wrong in the transcript, the overall ideas would be documented. The recording function also helps teams be on the same page, even when one misses the meeting.
Screensharing Through Any Device
Many teams prefer online meetings because of the flexibility it offers. It allows a person to join from anywhere, through any device. Hence, there is no mandatory rule to join via a laptop. As long as you use a smart device to download the video conferencing platform, you should be ready to go. The great part of this is that it does not restrict or limit access to the platform's features. Hence, even from your smartphone, you can log into the meeting and share the screen if required. This way, you can still have a shared experience without being in the same room. Screensharing offers multiple benefits. For instance, it reduces the time duration of a meeting as visual representations help others understand your point faster and are proven to be productive. 
Schedule Meetings and Recieve Notifications in Real Time
A physical meeting never tends to go on schedule. Due to travel time, for instance, individuals may attend late, and there is no choice but to wait until the required people are present to start the meeting. In an online setting, however, getting everyone to join on time is easier. For starters, most online meetings are scheduled in advance, whereby you receive a notification through email. When a person responds to the invitation with 'yes', it automatically updates your calendar, informing your employees that you will not be available at that time. This prevents meetings from clashing with one another. Moreover, the number of reminders usually sent for an online meeting helps ensure they join on time. For instance, where it is synced with your calendar, you receive a notification thirty and ten minutes before the meeting. Sometimes in apps like Teams, you get a notification when someone starts the meeting.
Switch Device or Add a Device
A useful tool in video conferencing platforms is 'switch devices'. If you are logged into a meeting with one device, you can easily switch to another midway. A typical scenario where such a feature becomes an advantage can be when you join a meeting through your phone to avoid getting late and then want to switch to your laptop. Instead of having to search for the meeting details, if your account is logged in, you will have the option to switch devices. The transition occurs fast, without you having to miss anything that was spoken when you made the switch. When you do so, the device you previously logged in from will no longer be on call. Some platforms like Teams and Meets allow you to log in from two devices. While this may seem impractical at first, it allows a user with issues in one device to connect to another easily.
Performance reports refer to documents automatically made by the platform, which specifies the number of people that joined, their names, and the time stamp of when they joined and left the meeting. It has information like how long the meeting was, mentioning how much speaking time was included. This feature explicitly helps employees conduct training sessions or even in educational institutes. As a result, there is no need for a person to keep track of who joined and for how long. Students primarily cannot lie or get away from mandatory attendance. It moreover gives insight into how your organisation uses the software in question. Employees can access what types of activities users engage in daily. They can also consider factors like what devices the majority use to log into meetings. Such insights can help the management make decisions and take steps to ensure everyone remains engaged across their respective teams.
Make Your Virtual or Hybrid Work Environment More Interesting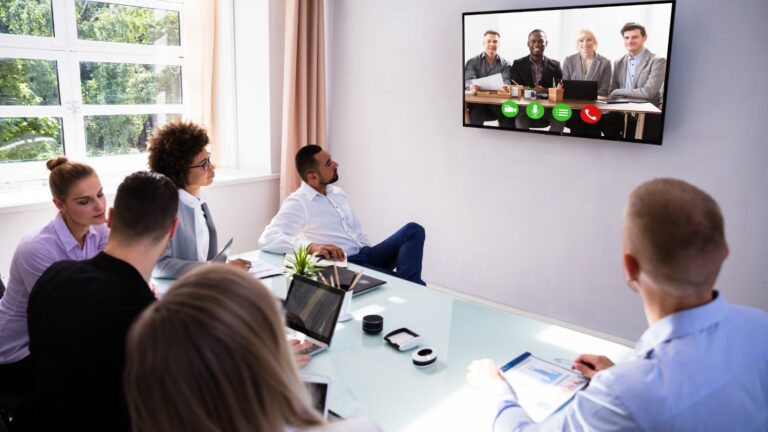 A virtual or hybrid environment while highly flexible for the user, a virtual or hybrid environment can be quite boring. Having your entire professional experience behind a virtual screen may not be the most interesting. There is less socialisation and lesser opportunities to see your colleagues. This is why companies must invest in an interactive platform online. Rather than simply looking at software that allows you to take video calls, consider a platform that promotes teams to collaborate and work together online. With the right platform offering great features, your virtual or hybrid work environment got much more enjoyable.