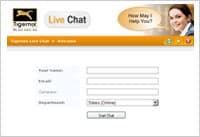 The new and improved Tigernix website has a range of interesting and user friendly-features which enhance the overall user experience. The website provides more value to visitors and has already proved its success by registering a steep rise in traffic.
One of the newly added features is the online live chat, which has proved to be a hit with visitors. The feature enables users to chat with a representative from the customer service department, sales department or billing department.
The users can put forth queries and enquire about the products and services provided by Tigernix. Our trained and friendly executives are always ready to help solve customer problems and product related issues.
The online live chat feature also has the option of the user leaving a message. In this case, the concerned department representative will get back to the customer within 24 hours.