The social, health and economic changes upsurged by the COVID-19 virus has put all countries in darkness- where everyone's asking 'what is the next contagious surprise?'. This pandemic has tossed everything: from businesses to houses, upside down. A field that was immensely affected by it was 'Education'. Is closing down educational institutions the solution to avoid the pandemic from infecting the students? What about their education? All these questions were asked and answered by Singapore!
---
Singapore and COVID – 19 
Singapore has cleverly handled the pandemic where the recent statistics show gradually declining rates of COVID-19 patients in the country. But controlling the pandemic was not the only priority for Singapore. This country has thought ahead of time to help children to continue their education regardless of the barriers imposed by the COVID-19 virus. The following diagram posted by Wikipedia on the 13th of October 2020 shows details of new COVID 19 until the 12th of October 2020. This shows that from the latter part of August, the number of diagnosed patients has been declining amazingly.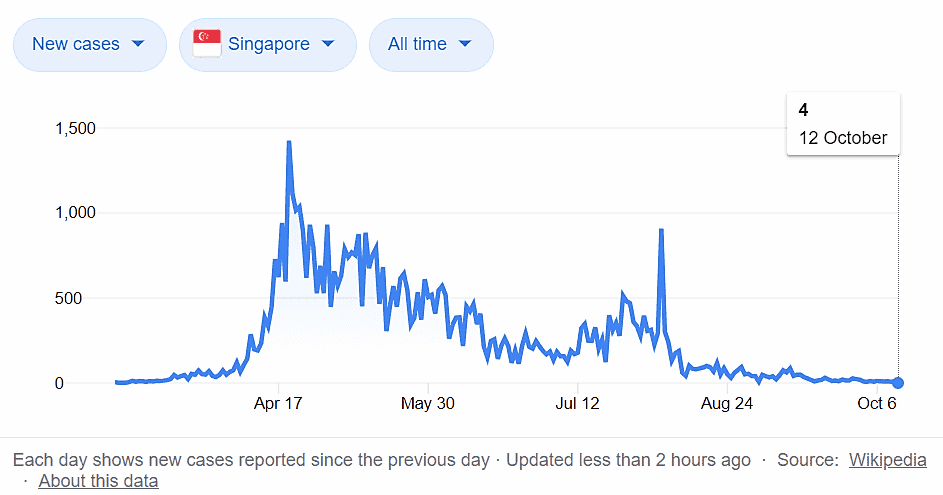 Figure 1: Source: Wikipedia
Continue reading this article to learn how Singapore used technology to facilitate their quality education systems…
Education amidst COVID-19 in Singapore
188 countries were cornered by COVID-19 to force schools to shut down. Singapore educational institutions were some of these schools. But education's continuity in a COVID-19 environment was allowed by one close at hand solution. Which is home-based learning. 
Here are some changes spurred by the pandemic
Teachers became health promoters, supporters, and nurses at a glance
Teachers who are not tech-savvy had to surf through the internet searching for effective online pedagogies
Packed classrooms became vacant
New awareness for technology brewed in Education systems
Conventional pedagogies became more student-centric
Education systems became flexible and lucid  
Learning from home became challenging to students who are not used to it
It has not, therefore, been a decent and uninterrupted transition, but it was the best and the most accessible mode of education. 
To understand what changes have been brought upon Singaporean students and their parents in their day to day lives, click this video link.
Singapore wields Technology against COVID-19
The advent of online classroom platforms
Surveys and interrogations were carried out by many schools before introducing online systems to education. This allowed the educational institutions to understand how online learning would affect the children and how it would affect the communication between the teachers and students. After understanding the student's perspective, many schools allowed the intervention of online learning systems and schools which already used such technologies faced lesser issues during adaptation. 
Teachers in Singapore were provided with the licenses to access technologies such as Skype, Teams, Zoom, Google Meet to initiate online classrooms for their students. Even 'PE' classes were conducted via these forums during the pandemic. Some schools used blended methods by breaking down offline classes into smaller groups and teaching them in a controlled environment and conducting the rest of the class online. 
After the transition, many schools used pulse checks via student committees to understand the rate of effectiveness of the technological transition. Concerning the results, more tweaks were pinpointed, and the systems were adapted to make students feel more comfortable during home-based learning. 
Use Cases of technology in Singapore Education Institutes
Medical students in Singapore were introduced to Virtual Reality head gears and hand-held devices to enter into a gamified and simulated world where they would be trained to undergo medical learning systems in Yong Loo Lin School of Medicine at the National University of Singapore (NUS). These students don't have to be crammed in one laboratory to learn medical procedures. Multiple learners can be enabled to take part in highly secured and restricted environments.
Students who study medicine at Nanyang University have been using technological getaways for students to learn and expertise in medicine better than ever. The importance of such technologies has never been of more importance than before. This university used barcodes to scan diseased organs and enable students to use the data to feed it to the simulated world to carry out the procedures virtually or to use 3D printers to print a replica of the organ to get a more tactual experience.  
In all these instances, Singapore medical students use technology to avoid: 
physical contact with patients and peers
putting any patient's life at risk
conventional learning environments which are not non-contamination friendly
Back to offline Schools in Singapore after COVID 19
Measures will be taken by the Ministry of Education to introduce adapted curriculums that will not let student's fallback in their studies. These lessons will be conducted under predetermined safety measures that are imposed in schools to keep students in minimal physical contact.  
Even physical education will be continued to keep students healthy and fit while making them understand how important it is to abide by the regulations that are imposed by the schools. Badminton, Volleyball, Basketball can be limited to groups of 5 students per group who are sent to court after undergoing safety methods. 
Since COVID-19 is airborne children will have to face masks and shields can be used by students who find difficulties in wearing masks.
Measures will be taken to prohibit the intermingling of students, students and teachers will; be partially restricted to allow them to stay on their floors throughout the day. Students are grouped as 5 heads per group and allow each group to have snacks and breaks in homerooms in a scheduled manner. 
Teachers will not be changing per class; each class would be exposed to a fixed teacher.
Children can use the care systems in the afternoon; families can assist little children if needed. 
As mentioned above, The Education System in Singapore is taking controlled measures to overcome all the limitations rooted in the COVID-19 pandemic. You can further investigate yourself with the measures taken by the Ministry of Health in Singapore to control the effects the pandemic has caused to the Singaporean Education System. 
Measures taken by the Singapore Government during the pandemic to help their students to efficiently grasp knowledge through technology is worth complimenting and worth to be taken as an example to understand how to adapt education systems during the COVID 19 pandemic. With the hope that you and your country are taking good care during these challenging times. Stay tuned with Tigernix to be updated about our next blog article.